Sartorial house
Milan, Italy
The home of Italy's most famous architect.

Andrea Castrignano is an established designer, the best known interior design influencer in Italy and the first to have promoted Made in Italy design on TV and social networks. For the complete restyling of his private residence in the centre of Milan, the architect chose high quality materials and elegant, vibrant colours. Lapitec is the protagonist in the kitchen, with a long countertop that perfectly meets the family's needs.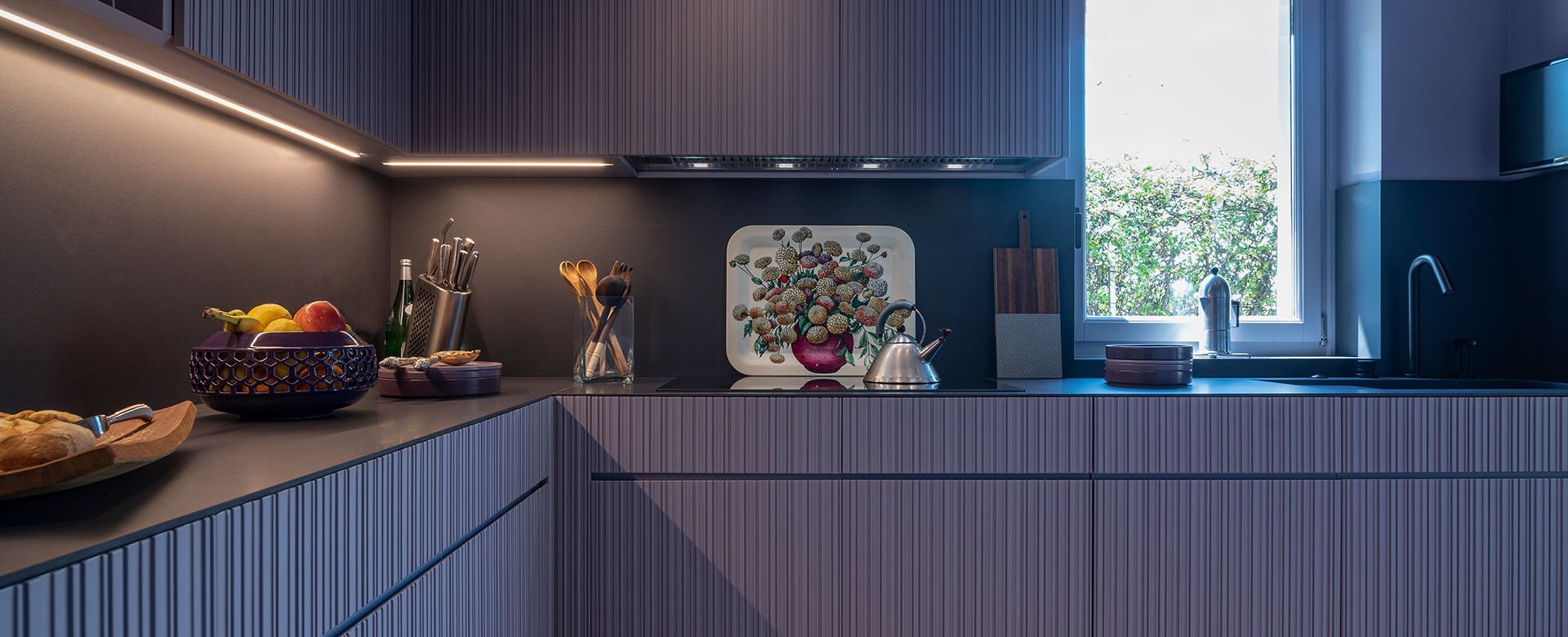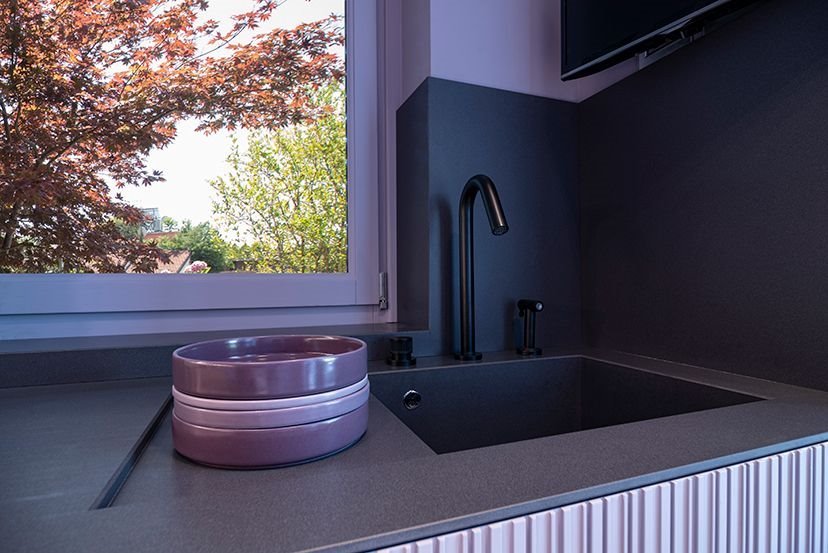 A made-to-measure kitchen.
The removal of two windows made it possible to extend the surface area intended for the custom-designed kitchen featuring purple doors in milled panels with a linear motif. The stone kitchen top, continuous with the splashback, is in Lapitec Nero Antracite in the Satin finish, soft to the touch and visually clean. Maxi slabs that minimise the presence of joints are featured throughout its length, allowing for all appliances to be housed and creating ample space for preparing food and plating up. The sink from Lapitec's Orion collection is in the same shade as the top, while the splashback is shaped at window height, creating a practical shelf that is robust and easy to clean.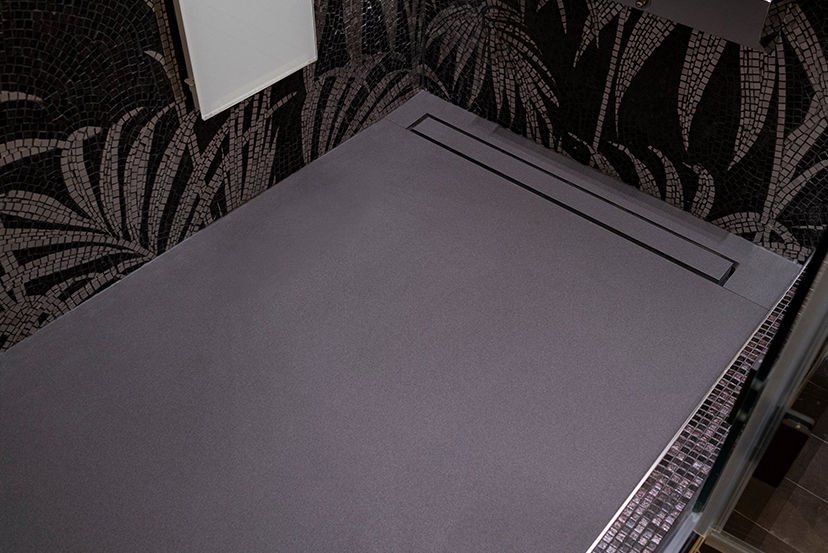 Attention to every detail… even in the bathroom.
Nothing in this project is left to chance. Attention to detail, for example in the wood panelling that dialogues with the kitchen unit, further enhances a project that is unique in terms of the choice of precious and predominantly natural materials. This is the case in the rest of the house, with the marble floor and geometric staircase, or with Lapitec itself, also found in the bathroom, conveying a refined and classic appeal with a style and performance that are absolutely contemporary, suited to a cosmopolitan city like Milan. Lapitec is used here for the custom-made stone shower tray, in contrast with the ceramic cladding and the ceiling, heavily decorated with picturesque wallpaper.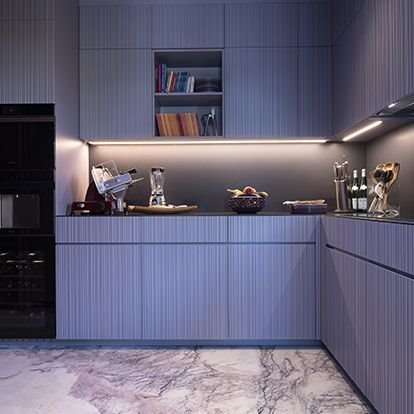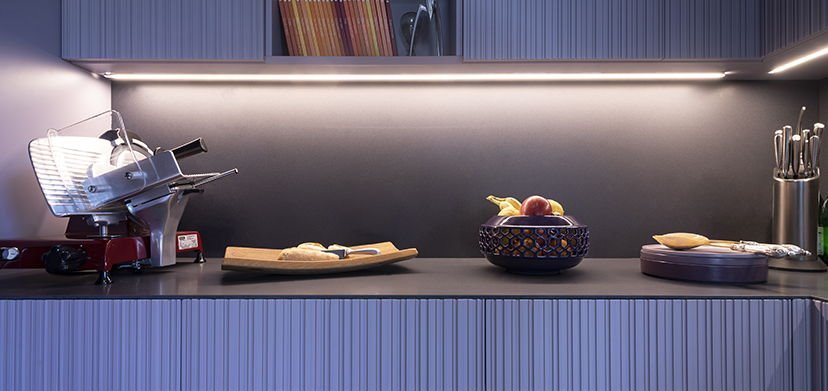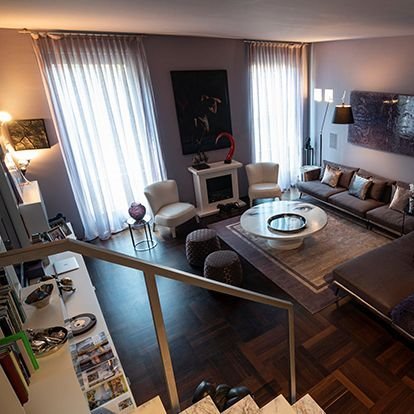 Customisation possibilities.
Freedom of design, high levels of resistance and remarkable performance make Lapitec the best choice for kitchen cladding. In addition to its innovative characteristics, this material also boasts an extensive range of available colours and finishes, making each project elegant and customisable.
Applications
Kitchen
Bathroom
Finishes
Satin
Nero Antracite - Essenza Collection