Iridou penthouse
Athens, Greece
An exquisite penthouse in Athens, winner of the 2020 Interior Awards.
In the historical heart of Athens, overlooking the National Garden and Presidential Palace, this magnificent penthouse, renovated by the AK Praxis studio, offers a new take on the typical elements of classicism, creating a new dimension that saw it become winner of the 2020 Silver Interior Award.
Reinterpreting classical aesthetics.
Housed inside a 1950s apartment building, this penthouse covers a single floor measuring 290 m2, with a Mediterranean style that has never been seen before. The traditional colour white dominates every room and characterises all of the walls and ceiling, including the tone-on-tone plaster mouldings highlighted by the linear lighting solutions, and the subtle skirting board that meets the Wenge flooring. The floor's decorative edging and Hungarian herringbone laying is a contrast to the vertical surfaces and removes any hint of minimalist style, thereby reinterpreting classical aesthetics.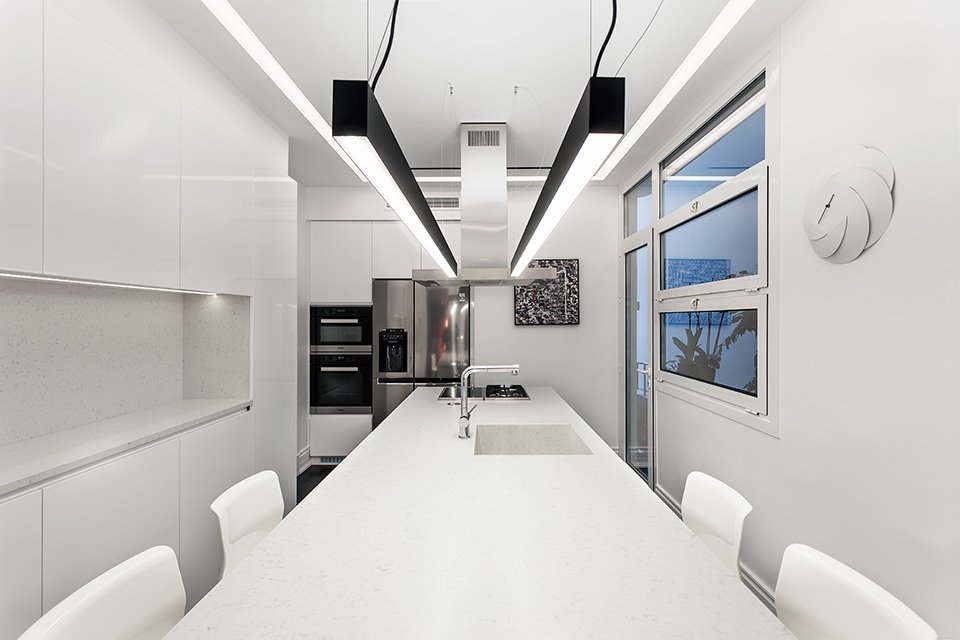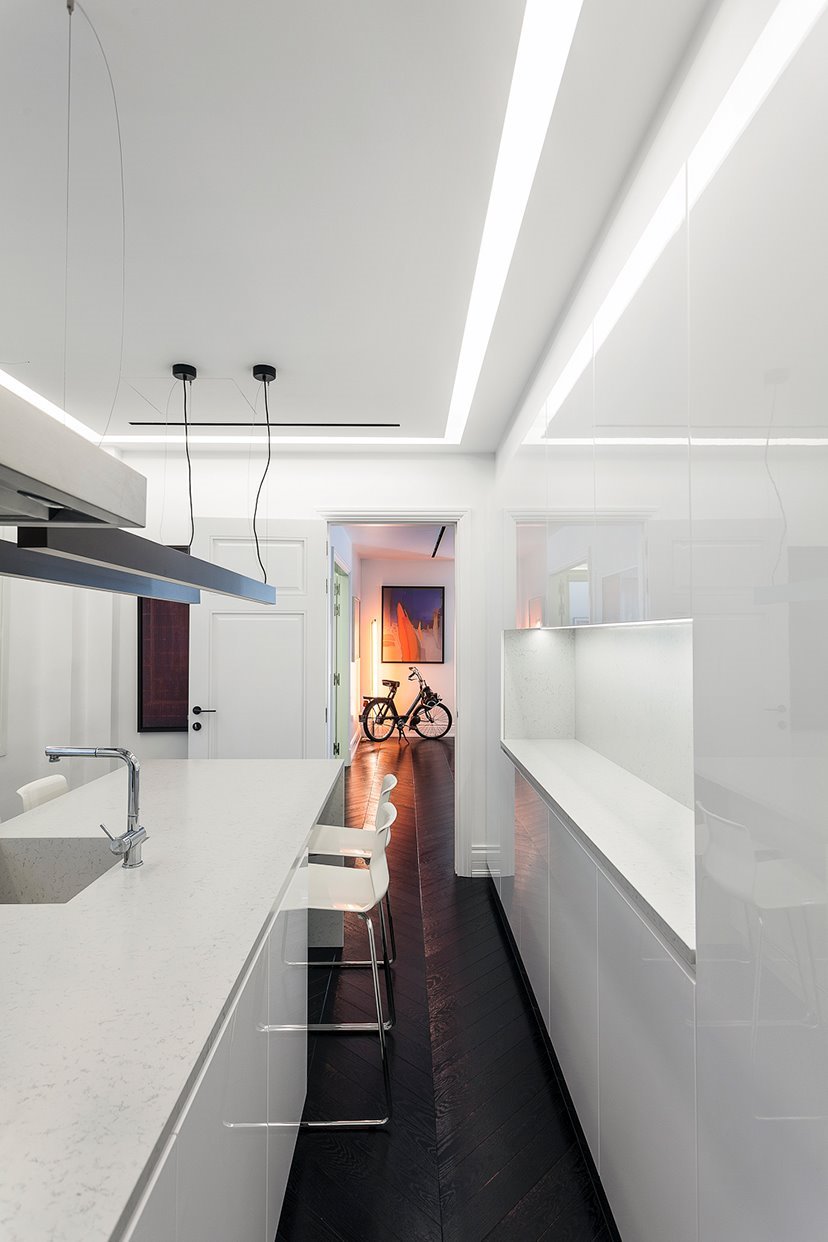 A totally white kitchen.
This kitchen is totally white, except for the pictures and the flooring, and is housed in a long, narrow room. In the centre, it has a large island, equipped with the cooking area, sink and built-in snack bar.
The worktop is made from Lapitec Arabescato Michelangelo with a Satin finish; a single slab measuring over 3 metres long was used, allowing the designer to create one continuous surface without any joints. The 12 mm-thick edging has the same finish as the worktop, made possible thanks to Lapitec's "full-bodied" composition.
The sink, top and splashback of the wall system have also been completed using the same shade, creating a pure and monolithic effect.
The subtle veining that decorates the surface reflects the architectural studio's desire to reinterpret the typical materials and elements of classicism, taking them into a new dimension: no longer traditional stone, but sintered stone, which has the same warmth and charm as the classic natural materials while also guaranteeing higher levels of performance, also in terms of sustainability.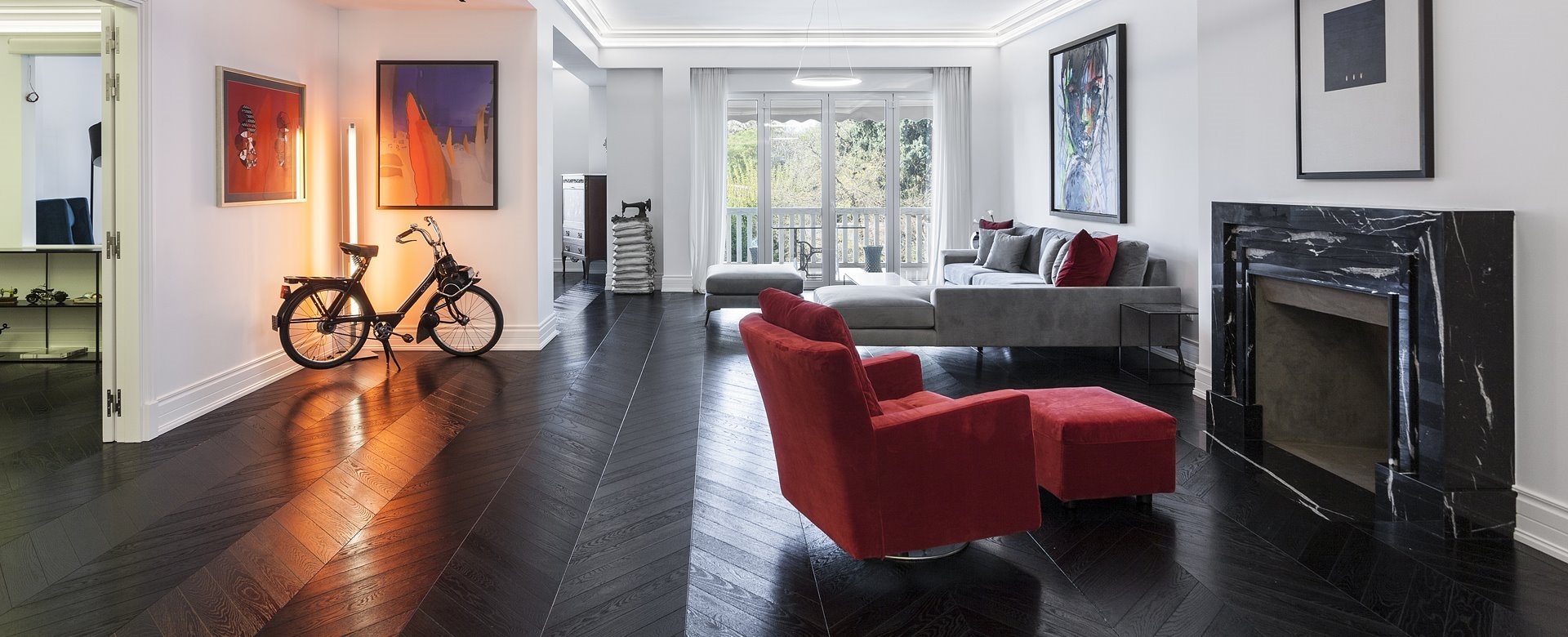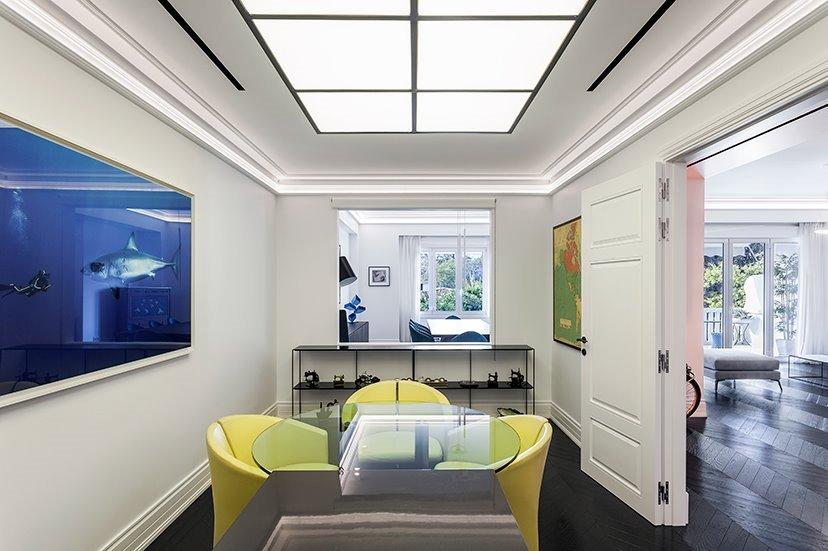 An almost museum-like space.
This home is like a container with almost museum-like features: the large openings that connect the various rooms and the large panoramic views with white fittings give this penthouse its rhythm, making it appear like an art gallery where furnishings and accessories may be considered like a permanent collection. Contemporary pictures with black frames, sculptures, antiques and geometric hanging lamps all contribute to creating a well-calibrated sequence, where the spaces are left relatively empty with the sole objective of emphasising the few items of furniture.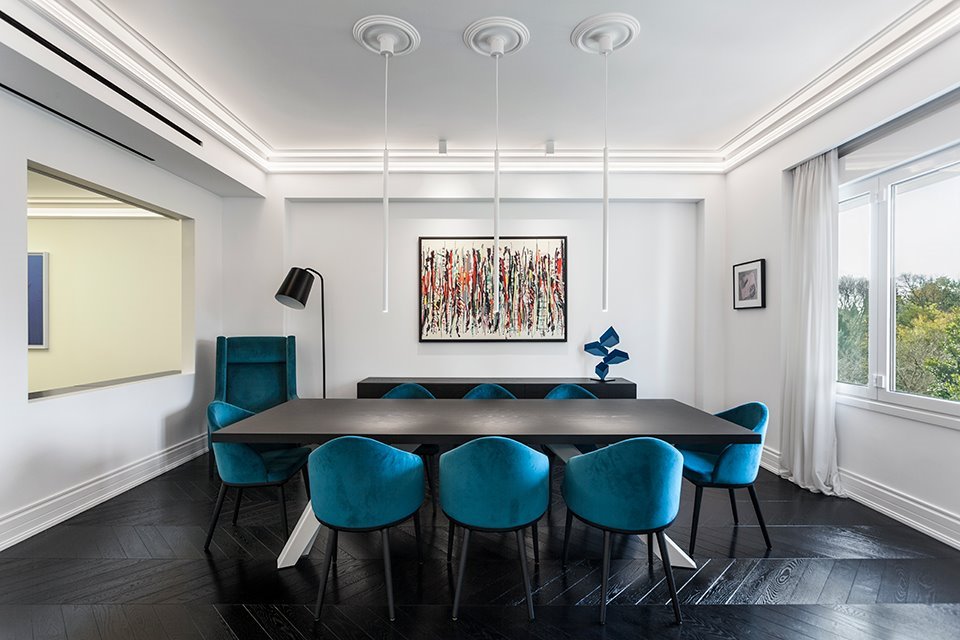 A focus on sustainaiblity.
Free of any ink, resin or other toxic additives, Lapitec is the perfect material for anyone whose design philosophy focuses on sustainability.
This was a key feature for AK Praxis, member of Greece's Sustainable Building Council and of GreenBookLive.
The extreme versatility of this material, which also comes in large formats and different thicknesses, makes it a flexible and valuable resource that is able to interpret even the most ambitious designs and tastes.
Finishes
Satin
Arabescato Michelangelo - Arabescata Collection