Fucine di Buttrio
Buttrio, Italy
From service station to bright bistro.
Regional road 56, Buttrio, Italy. An old petrol pump has been restored by architect Marco Zito for the Danieli Group and is now a café featuring a stunning Lapitec top.

Foundations of the project.
Marcello d'Olivo's unique design from 1962 featured an exceptional arched cantilever roof with an impressive 11-meter overhang, supported by ten columns. This architectural masterpiece became a renowned local landmark over the years but unfortunately fell into a state of neglect more recently. However, thanks to the recent efforts of Marco Zito, the building has undergone a comprehensive redevelopment. The objective was to preserve the distinctive elements of the original design while enhancing its efficiency. This redevelopment is an integral part of a larger masterplan known as 'Le Fucine', which encompasses a hotel, sports club, winery, and wellness area.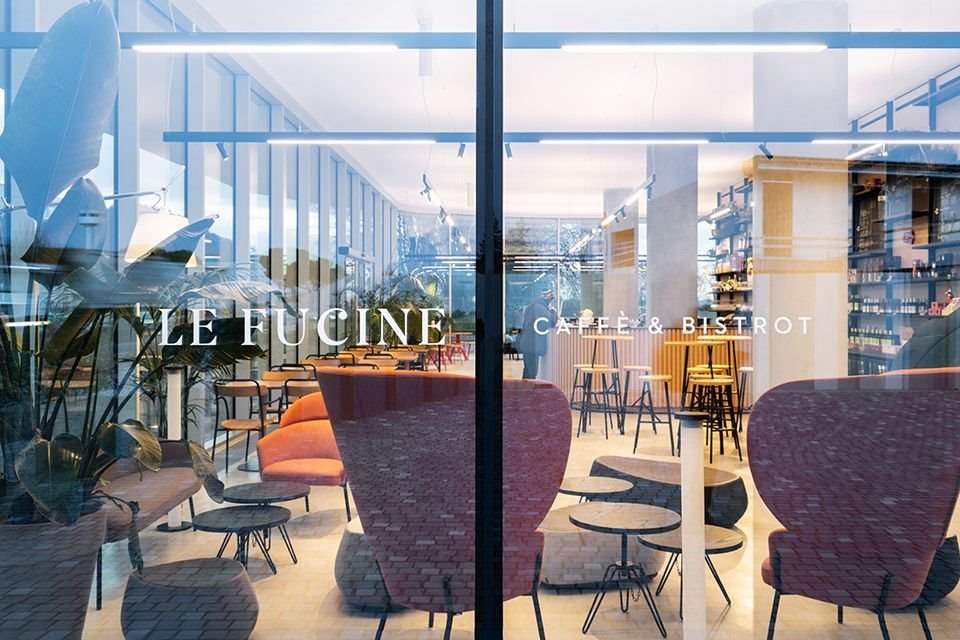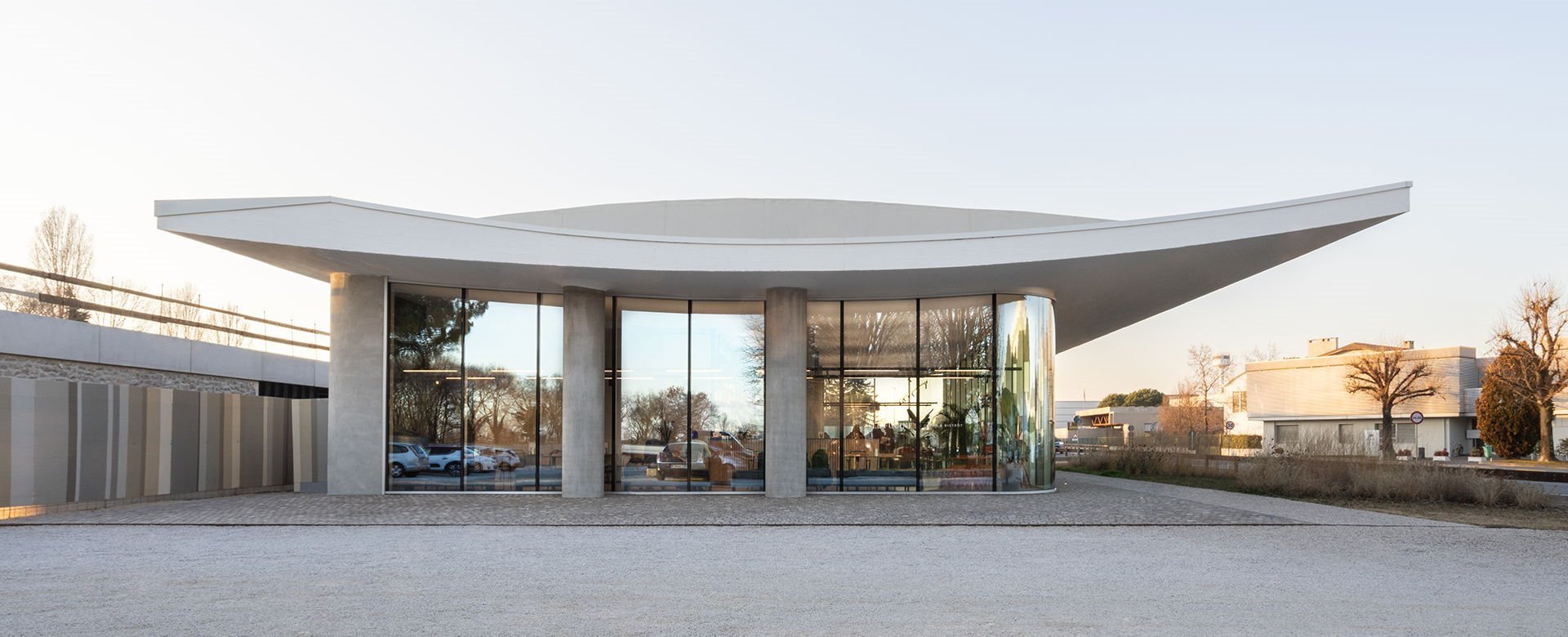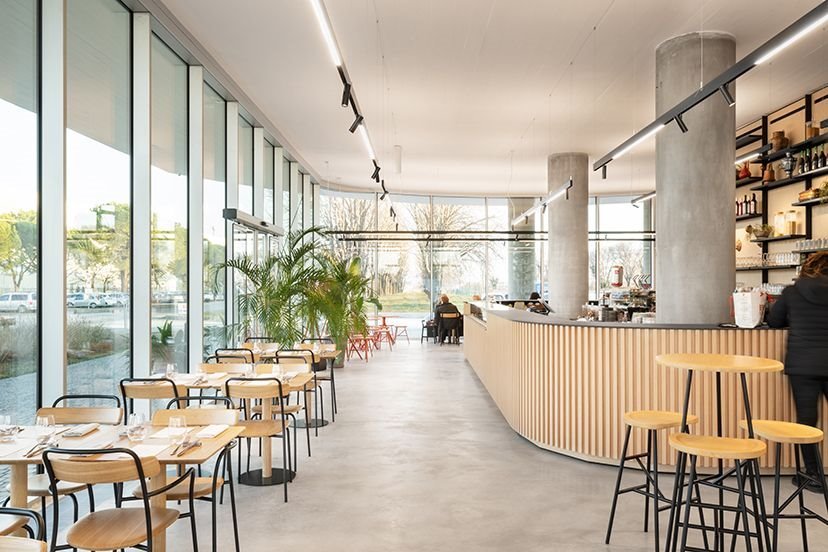 Harmonious fusion of aesthetics, architecture and nature.
The introduction of full-height perimeter glazing in the renovation project serves to enhance the building's aesthetics rather than detract from them. This architectural choice allows for the interior to be revealed, showcasing the distinctive architectural framework that remains prominently visible. The interior design seamlessly integrates with the existing architecture, while the furnishings are thoughtfully curated, utilising a colour palette dominated by greys, complemented by accents of black and warm wooden surfaces. These elements not only create a welcoming atmosphere but also establish a harmonious connection with the natural surroundings.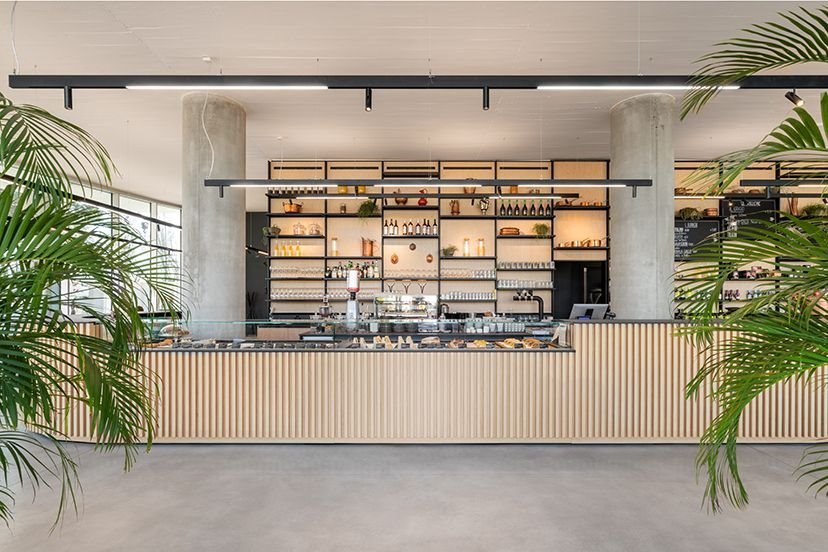 Symphony of materials.
The long central counter, used for both service and display, boasts a wooden structure adorned with a vertical slatted boiserie effect, surmounted by a Lapitec Nero Antracite Lithos top. The use of XXL format Lapitec slabs has significantly minimised the visibility of joint marks, resulting in a sleek and clean image.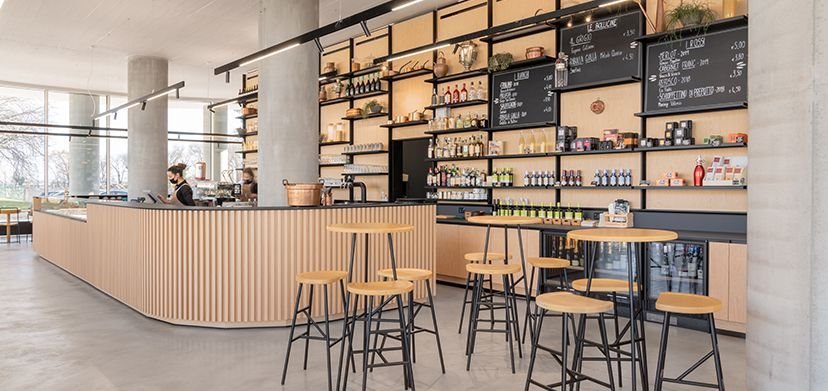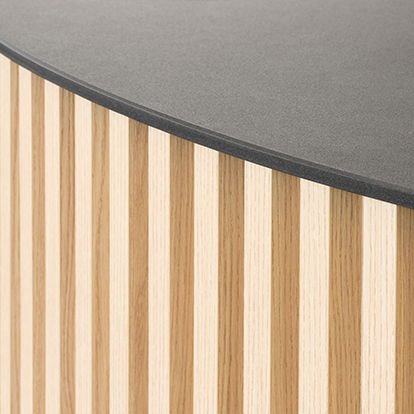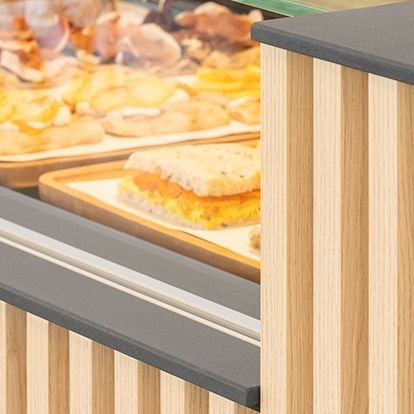 The ideal material: sintered stone
Sintered stone, renowned for its resistance and non-porous surface, is the ideal material for bar tops, restaurants, tables and desks. Its remarkable attributes include easy cleaning, preventing dirt buildup and bacterial growth, and steadfast durability against the impact of UV rays, time, and most chemical agents normally used for cleaning and surface maintenance.
Finishes
Lithos
Nero Antracite - Essenza Collection